My first piece of pen-related jewelry! This beautiful, handmade piece of art came from Brother Shirley Furby, who kindly emailed me, inquiring if this gift could be sent. I'd be crazy to turn down a surprise, so I accepted and was most curious. It arrived not too long after with a description of the goody.
Brother Shirley sent me a necklace with a pendant. As described to me, the circular base is sterling silver cut from sheet and the nib shape is cut from brass sheet. The pieces were cut with a jeweler's saw and soldered together. The bail on the disk was a piece of wire flattened and soldered to the disk. In the breather hole, there is a wee and very, very adorable little pink diamond - yep, a real one! I'm so excited and pleased to receive this special piece of jewelry - handmade and entirely unique!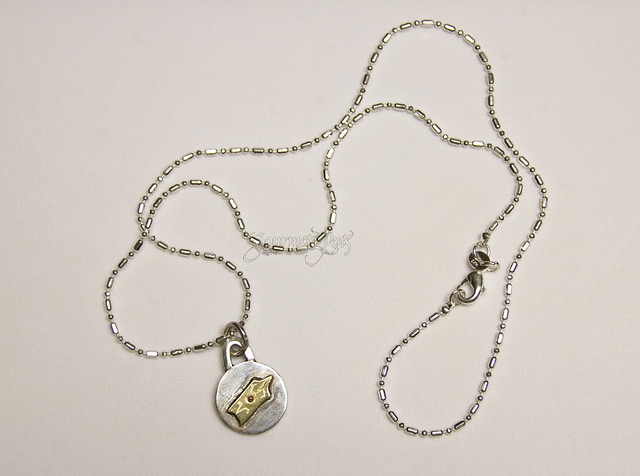 This isn't the first piece of jewelry Brother Shirley has given away either - he explained to me he often makes pieces of jewelry and carries them with him when he is out and when he finds a "victim", he offers them his work, and he has given away hundreds of pieces. I have to say, that's pretty awesome. What a fun and wonderful way to spread your unique work and your talent. And I think those "victims" are actually blessed recipients.
Thank you so much Brother Shirl! Here I am, attempting very pathetically to model it. I really hate taking selfies, but I have made the sacrifice for the purpose of this post. It's easily recognizable as a fountain pen nib (well, easily recognizable to a fountain pen geek anyway, but I'm sure non-geeks would recognize it too).