Thanks to The Pen Company for sending this neat little Sailor 1911 Fude for review!
ABOUT
Body material: Plastic
Trim: Metal
Cap: Screw on
Posts: Yes, friction
Nib material: Gold-plated steel
Filling system: Sailor cartridge/converter
Length (capped): 132.60 mm/5.22"
Length (uncapped): 113.57 mm/4.47"
Length (posted): 143.36 mm/5.64"
Length (section): 16.15 mm/0.64"
Diameter (barrel): 6.78 - 12.28 mm/0.27" - 0.48"
Diameter (section): 9.33 - 10.88 mm/0.37" - 0.43"
Weight (all): 12 g
Weight (cap): 7 g
Weight (body): 5 g
Price: £20.00
Where to buy:
The Pen Company
PACKAGING
I love the simple presentation of the Sailor 1911 Fude de Mannen. It is a green, slim box with a lot of details and drawings on it, none of which I understand. The cardboard pen sleeve inside slides out, and it holds the pen and a plastic pack of two ink cartridges. Simple! Minimal waste.
APPEARANCE
The Sailor 1911 is a torpedo-shaped pen with gold colored trim. There is nothing on the finial, cap, barrel, or section. The clip is attached to a very snug and tidy cut out in the cap. The clip is smooth and rounded with no engravings on it. There is a small center band on the end of the cap. It is engraved with Sailor Made in Japan. The section is smooth, round, and tapers slightly towards the nib, ending in a flared ridge.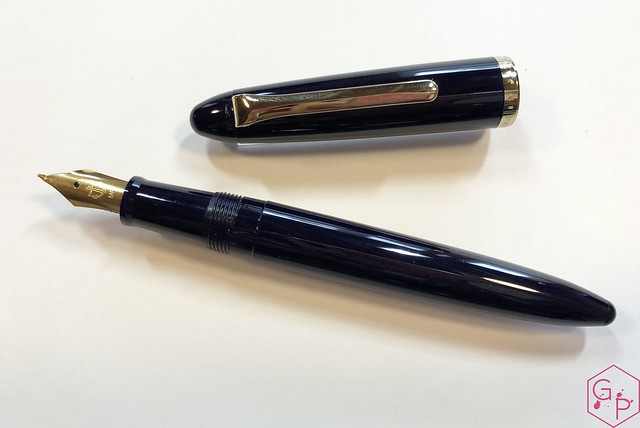 I like the design of the Sailor 1911 series and I do own several of them as a result! As such, this one really appeals to me as well. Although the pen looks black, it's actually a deep, dark blue. It looks good with the gold trim, to my eye.
NIB & PERFORMANCE
The pen is equipped with a gold-plated steel fude nib - a nib with the tip of the tines bend upwards to allow for calligraphy-style writing. It has a single slit, a round breather hole, and is engraved with MF and the Sailor anchor logo.
The cartridge/converter filling system works well, no issues there. I prefer converters to the cartridges because I'm lazy to find a syringe every time I want to refill it.
IN HAND
The clip is snug and springy, making it easy to operate one-handed. It slides on and off papers, pockets, and pouches easily. The section is on the short side but it isn't slippery or uncomfortable. The cap threads are a little sharp but tolerable.
Unposted, the pen is quite light but it is balanced and pretty comfortable. The cap posts snugly by friction, which adds a little length and weight. I prefer using it unposted because I use a non-traditional grip to accommodate the nib and I like the control that way. However, using it posted may be preferable for those with larger hands.
Top to bottom: Lamy Safari, Montblanc Marilyn Monroe, Pelikan M200, Montblanc M, Lamy Aion, Lamy Aion, Lamy Studio, Lamy Studio, Sailor 1911 Fude de Mannen.
PROS & CONS
OVERALL
If you are interested in hand lettering, calligraphy, or you just want a fun and unique nib to play around with, I highly recommend this pen! It's simple, fairly affordable, and it's easy and robust to carry around with you. It's an attractive, classy pen model and it provides hours of exploration. Great as a gift, to play with, or even to get serious with. I do find after several months the body is a little scuffed up, but I'm a user so I don't mind.
I received this item free of charge for the purposes of this review. I was not compensated monetarily for my review. Everything you've read here is my own opinion.