Ah...a pen that I did not like at all. I'm thrilled to have found a pen that just didn't do anything for me.
ABOUT
Body Material: Stainless Steel
Trim: Metal
Length (capped): 132.2 mm.5.20''
Length (uncapped nib-end): 115.0 mm/5.53''
Length (posted): 146.9 mm/5.78''
Barrel Diameter: 10.7 mm/0.42''
Section Diameter: 10.0 mm/0.39''
Nib material: Steel
Weight (all): 14 g
Weight (cap): 4 g
Weight (body): 10 g
Fill type: Cartridge
Price: $3.20USD
Where to buy:
JetPens
PACKAGING
The V301 came in simple, useful packaging - just a blister pack with two ink cartridges. It's useful because, assuming this would be a beginner fountain pen, it has basic pen information on the back - how to install a cartridge, for example, and also fountain pen details (how to use it). Also, recyclable parts.
APPEARANCE
The V301 resembles Zebras other pens (F301), so it's a nice complement. It is cylindrical with blunt, flat ends. The end plug is black plastic, notched to accommodate the cap when posted. The finial has black plastic with an additional notch to which the shiny metal clip is attached. The clip is short and wide and is marked with ZEBRA. The barrel is brushed stainless steel in silver, which matches the cap. It has ZEBRA V301 and fountain pen written on it in black.
The section is unusual. It's straight, almost flush with the barrel. It's ridged, hard, black plastic. Right before the nib is a recessed, smoother section.
Overall, I don't think it looks too bad, especially for the price.
NIB & PERFORMANCE
The nib is interesting. It is quite small, steel, and has no breather hole - only a slit halfway up the nib. It writes a medium line, but seems to be unmarked otherwise. It is wrapped around the feed. To me, it looks a little small for the size of the pen.
I inked the V301 with one of the provided cartridges, because that's what a new user would likely do, and also because I couldn't find a converter that would fit in it. It took awhile to get the pen writing - I couldn't squeeze the cartridge to prime the feed at all. It felt like it was rock solid! I ended up whipping the pen until ink reached the nib, as well as dipping the tip of the nib into the punctured cartridge. This was a lot of effort just to get it writing.
I found the writing performance to be okay to not that great. Once ink reached the feed, it wrote just okay. Some letters would randomly skip and the feed would run dry and I would have to whip the pen again to get it to write. It was a dry writer with very little line variation. The nib was hard and ink flow was too dry to keep up with any pressure. Once it was actually writing, the few lines I could get out of it weren't horrible: flow was fine, and the nib was smooth enough, but then it would dry out again. The performance was just too inconsistent for me to feel it was decent overall.
I managed to get it to write, but it was pretty unpleasant and I was rather unimpressed by its performance. I had higher hopes for Zebra.
Using a different ink in this cartridge helped improve the flow, but I still didn't like it. The ink that is provided in the cartridge just seems really dry and a weird choice for a fountain pen like this. Even with improved flow though, I still didn't like it all that much.
IN HAND
Zebra designs are usually decent, for my tastes. In this case, the clip is solidly built, and is nice and springy. It was pretty easy to use, even one-handed.
I disliked the feeping of uncapping and capping - the spring in the cap was sensitive and bounced off the section material. It had to be perfectly aligned not to catch on the section, and then a good shove would click it shut.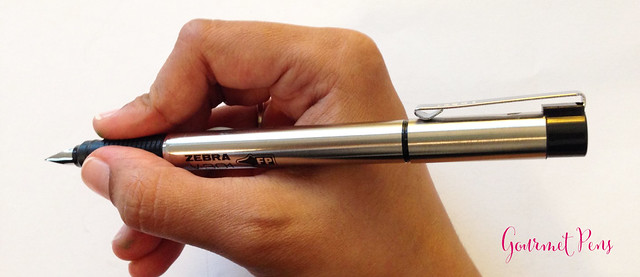 I disliked the hard, sharp plastic section. If the ink flowed more smoothly, perhaps less pressure would have been required to get the pen to write, which would have made less of a death grip required. That should make it more comfortable. As it was though, I didn't like it.
Unposted, I found the weight and balance of the pen comfortable, but I disliked the shape of the section. The cap posted by clicking on. It was a secure fit, but it did spin in place. The weight and balance posted was comfortable as well, but that spinning cap was annoying.
PROS & CONS
OVERALL
I think this is my current most disliked fountain pen ever. I'm disappointed by its performance, by the ink, by that hard plastic section... there was just nothing I loved about the pen and a lot of things that bugged me. I'm glad I got to try it though because it's one of those pens you see in box stores and it's always fun and exciting because you think OOOO FOUNTAIN PEN but then it was terrible. Am I the only one with this experience? Does yours work?
There are other similarly-priced/entry-level fountain pens that I would certainly pick over this one, such as the Pilot Petit1, JetPens Chibi Mini, Pilot VPen, or the Platinum Preppy.