Chris Davis is the owner and craftsman of Davis Leatherworks - remember the
funding project
I had posted about? Currently, all the leather goods he makes - journal covers, dog leashes and collars, business card sleeves, etc - are hand cut, hand sewn, and hand crafted. Which is seriously awesome. He very generously shared three of his products with me - a
leather notebook cover
, a
business card sleeve
, and an eyeglasses case.
See the funding campaign here
!
Leather Notebook Cover - "Tawny" Veg-Tan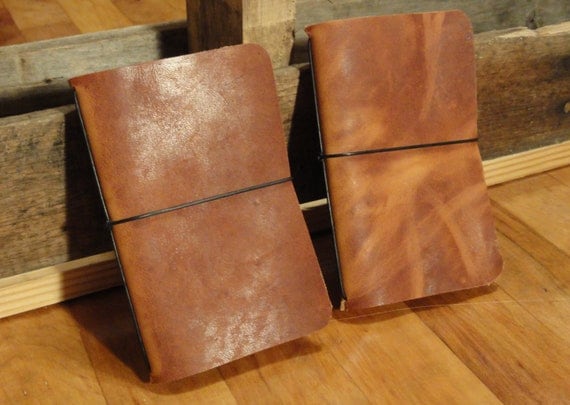 Left: new notebook cover. Right: Used notebook cover!
This leather notebook cover is 3.5" x 5.5", and comes with a 3.5" x 5.5" notebook of assorted brands - it may be a Field Notes, Writer's Blok, Moleskine, etc.
My notebook cover arrived in perfect shape. It's a very simple design - no fancy doomahickies attached to it or anything. If you recall my complaints with the
Pelle leather journal
, it was that it did not arrived polished. Chris's leather cover looked awesome. It's a nice soft cover - it holds its form but isn't stiff. You can bend it easily. It's just right for an on-the-go leather cover. The band was perfectly snug and the cover was perfectly aligned. Nothing needed adjusting. And it smelled of delicious leather - no weird chemical smells like the
Midori Traveler's Notebook
(which, granted, does fade).
thick Moleskine
, only one fits. If you want more space, you'll have to let Chris know in your order. Personally, I wanted this to use in my purse, where I always keep a
Field Notes memo book
, so one is just right for me.
Pelle
whose stamp was barely visible because it was poorly stamped, this logo is well done.
Bonus:
If you need new bands for your cover, Chris will ship them to you free of charge. Classy!
The plastic-type elastic is really good. It's super snug and holds everything in place really well. I'm not too excited about the black plastic. I think it would have been nice if it was a different colored elastic - purely for vanity reasons. There's absolutely nothing wrong with the black - I just like colors and contrast.
You can also
contact Chris directly
if you want something custom made - for a particular notebook perhaps!
If you are at all interested in this beautiful work,
see the funding campaign here
and consider offering your support!
Contact & Connect With Davis Leatherworks
Browse the awesome website!
Facebook
Twitter
Etsy
Tumblr
Email
Peek at Another (Awesome) Review!
Comfortable Shoes Studio
Overall
I very much think you should go to
Chris's shop
and check out the goods he has made. I am totally
blown away
by the quality of all three of these products - the business card holder (review to come soon!), the eyeglasses case (review to come soon!), and especially the leather notebook cover. They all look and feel so professional, especially with the amazing hand-stitching work. All these products radiate quality! And if you're in the market for a Pelle or a Midori Traveler's Notebook, I can honestly say - the Davis Leatherworks notebook cover gives both of these a run for their money, and may even beat out the Pelle, if I had to pick between the two.
As Less mentioned in
her review
, Chris does include a Bible quote with his products. However, it was not intrusive, and I did not feel uncomfortable with it. Plus, he's been an absolute pleasure to communicate with. If you are non-religious, or against religious speech, please don't let this deter you.
Full Disclosure: I was sent this sample to try out and review, but this did not influence my opinion whatsoever. I'd still be full of wonderful things to say!